Time just keeps slipping away.

It's been almost 2 months since the open house and I'm still trying to finish posting the story to my blog. The further t fades into the past, the less I can recall! I wish I could say I've been busy in the shop, but that would be a stretch of the truth. A change in job to Monday-Friday schedule hasn't helped but hopefully now that winter is here, I can make more time for building. The countdown clock at the right of the page hasn't stopped!

The rest of the day Saturday I spent talking with other builders and speaking with vendors on site. There really wasn't anything from the vendors that I hadn't already seen on line. Most of the avionics stuff was focused on expensive glass panel add-ons and other things that are of little interest to me either because of cost or timeline in my build. Almost all of it I can find out just as much online as speaking to them in person, so I didn't spend a lot of time browsing.

I did however get a chance to meet a few other bloggers and You-Tubers such as Jeff and Adam, a cool son/father team that are building a 750 Cruzer. It was great to meet them and chat about the differences in building from a kit vs scratch-building like I am. Another topic we spoke about was the regulatory differences between the US and Canada - both have pros and cons. ​They even filmed a short segment for their vlog with me in it! You can check out their YouTube channel at

www.youtube.com/watch?v=NsZQ00KzeP0

and on

Instgram here


Another YouTube'r I subscribe to is Jon Croke and his series on tips for homebuilders. He's an avid homebuilder and produces an almost weekly "tip of the week" on his YouTube channel as well as builders guides on DVD that he offers for sale. I subscribe to his YouTube channel and really enjoy what he produces.

He too asked me for a favour which I was happy to provide.


Of course I took the time to introduce myself to Sebastien Heintz, president of Zenith Aircraft. He is the son of Chris Heintz original designed of these aircraft, and a fellow Canadian! Although he lives and works in the US factory, he appreciated meeting another Canadian and hasn't forgotten his roots - something we shared a few laughs about.


One of the more interesting thing on display was this homebuilt trailer, made by a homebuilding couple from the exact same aluminum that our aircraft are made from. Retro styling for sure!


With the nicer weather starting to arrive by Saturday afternoon, more Zeniths started to arrive at the homecoming weekend, which gave me even more opportunity to see some of the custom work others have done. I was particularly interested in speed mods - things that builders have done to clean up some of the aerodynamics on their planes. Even small things when added up can make a huge difference in climb and cruise speeds! For example, I really liked the fairing this builder installed on the tail of his 750. Nice and clean. This has the added benefit of preventing debris from entering the tail/fuselage juntion:


Of course the prime goal right now is to get mine built, but looking ahead one can't help but wonder about what I might choose for a paint scheme. These flyins are always a good chance to see what others have done and perhaps provide a starting point for mine. I really liked the overall look of this one:



I really like the clean lines and I found out from the builder that there isn't any paint! He did the entire aircraft in 3M vinyl wrap himself without ever doing it before. The bonus is that if he doesn't like the scheme at some time in the future, he can change it! Cool! I think this would look awesome with blue instead of red (I dislike red).

The factory 750 STOL looks nice too, but again, I'd prefer blue instead of yellow (I dislike yellow even more than red!)



All the factory demonstrators are open and you can sit in them, so I had a seat in the 750 STOL to confirm I like the layout. Just as I hoped - comfortable and roomy. Hope to be flying in the winter, so need enough room for bulky winter outdoor gear:

Pilot side, looking down - bubble doors add cabin width and allow the occupant to see almost straight down - what an excellent photography platform this plane will be :)

Even better, I arranged a demo flight with Roger, the Zenith company pilot!

Roger works on gassing up - I offered to help but he insisted I was the customer! Didn't change my smile :)


We did a quick briefing (Roger has thousands of demo flights under his belt. Despite this, he is the consummate professional!) and we were airborne. What an amazing machine!

Here is the view from the passenger side - it's taken with my cell, so the picture doesn't do the view justice.


We flew for about twenty minutes and I was able to fly a good portion of it. I was really impressed with the stability of the airframe, both in straight/level flight and other maneuvers. Turns required almost no rudder correction and attitudes held with almost no control inputs. A very stable and forgiving platform. Stalls were non-events too. Very impressive.

Alas, our time went by very quick and soon we started our return to the airport. I asked Roger if he would mind taking a selfie which he graciously obliged! I'm thankful for the opportunity to have flown with him and he certainly helped confirm my decision to build this airplane!

After talking out what type of flying I want to do, Roger asked if I'd like to see a performance landing - meaning how short the 750 STOL landing was capable of - of course YES!

I'm not used to STOL approaches so I was really surprised on how steep the approach could be. What surprised me even more was how quiet and smooth it was.

Roll out after the flare and smooth touchdown was REAL short. I know Roger is very practiced in this type of landing and weren't going much more than stall speed over the numbers, but in a word WOW!​ He admitted it could even be shorter with harder braking, but he thought I'd be happy - I was!

It took me almost an hour to stop buzzing after we were done the demo flight. It was awesome and I can really picture now what my plane will be like.

Late Saturday afternoon was set aside by William Wynne to do a "parking lot tour" for those that brought Corvair stuff for assessment - another key reason for my trip.

I didn't get any pictures of William looking over my stuff, but needless to say I was pleased overall. The only disappointment was the "good" crankshaft I brought, the one I so carefully measured and spec'd and was apparently turned and properly polished according to the guy I bought it from wasn't good enough. The crank journals didn't have the proper shoulder radii. William's trained eye not only saw this, but also noticed some very fine turning induced surface cracks that would preclude this crank from being turned again to make it correct. Disappointed, sure, but happy to find out now before I start building up my engine.

William is always willing to assess other items too. The cheap carb I bought (

see this blog post

) is in fact a perfect match for my engine - he was real surprised on how little I paid - score!

Here's a picture of another's builder having his turn. William is so giving of his time and honest with builders, a welcome feeling considering he sells these parts - it isn't about lying to people to make another sale, it's about helping builders make the right choice, all for free.


After checking my cores and making some recommendations, I tagged everything I needed to send to Florida for rework and loaded everything into the FlyCorvair trailer . Again, this transportation is provided free of charge to builders, something no one I know of does in the industry. I've had this stuff in my possession for almost 2 years, it was bittersweet seeing it leave, but glad I didn't have to haul it all home.


As the day wound down, we watched a couple of more builders make their debut engine runs and we all enjoyed a Missouri BBQ pork chop dinner with all the trimmings. Then it was social time.

One of the other things I wanted to do was look into buying a couple of the longer pieces of the kit that will be difficult to make from scratch.

Both the front and rear spars of the horizontal tail and elevator are examples. Our heavy bender is too short to do these and the light bender to light to bend items this long. So I bought them! More on this later.

I still have more to blog about this trip, but the plane won't build itself! Thanks for reading.


Powered by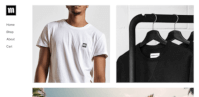 Create your own unique website with customizable templates.